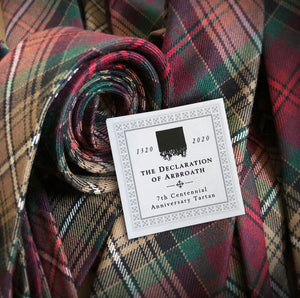 Declaration of Arbroath 7th Centennial - Tartan Tie - Numbered edition
Sale price Price £44.00 Regular price
Tax included.
Shipping
calculated at checkout.
The First 100 Ties Made!
...numbered 1 to 100, with this original anniversary batch being the only ties signed & certified with the 700th anniversary date - 6th April 2020.
From an edition of 1,320 numbered ties, hand made from tartan woven in 2020, in Scotland on the Isle of Bute.


- - -


The tartan was created to mark the 7th Centennial of the Declaration of Arbroath!
...the passing of a pivotal date, in the timeline of Scotland's history.


- - -

- - -


The 7 colour tartan visibly portrays the artefact itself; light tan with the narrow black stripes represents the document and the literary work; green and red represents the seals and signatories; the white pivot represents the recipient of the letter Pope John XXII; the scarlet pivot represents the Scots of old who died fighting for freedom; the broad black stripe becomes a memorial of remembrance for those who fell on the Scottish battlefields.

The thread counts in the two opposing pivots are created from the two relevant dates: 6th April 1320 and 6th April 2020 - thus the numeracy in the tartan spans seven centuries.

32 threads in the dark red pays tribute to Robert the Bruce who was crowned king at the age of 32; 100 threads span the complete width of the light tan field, representing the famous excerpt from the Declaration of Arbroath "for, as long as a hundred of us remain alive…"


- - -


The tartan was officially Ratified on the 6th April 2020
SEE THE OFFICIAL REGISTRATION HERE


- - -
 
CLICK HERE! ...
to read the full rational in the weave!


- - -


Packaged in a clear pop-up pillow box ...the ties are made in Scotland from tartan woven from 100% pure new wool. Supplied with a summary of the rationale behind the tartan, with wee certificate and the famous 'freedom' quote ...taken from the Declaration of Arbroath, 6th April 1320:
"for, as long as but a hundred of us remain alive, never will we on any conditions be brought under English rule. It is in truth not for glory, nor riches, nor honours that we are fighting, but for freedom – for that alone, which no honest man gives up but with life itself."


Each tie is hand made in Scotland from Declaration 7th Centennial tartan
These are the first 100 ties made!
A summary of the rational behind the tartan is included (the full details are available online)
The tie is complimented with the famous Freedom quote, on a small card ..."for, as long as but a hundred of us remain alive..."
Numbered on the tie with a accompanying signed & embossed certificate
Made from 100% pure new wool woven on the Isle of Bute


Tartan No. 12809
UK Registered Design No. 6085120
- - -

Order your special number ...before it's gone!
After these are sold it may be sometime before another batch is made and available!
- - -


The Declaration of Scottish Independence tartan neck ties (numbered Edition) are still available! ...but only a limited stock of 700th anniversary certified ties remain! (Signed & dated 6th April 2020)