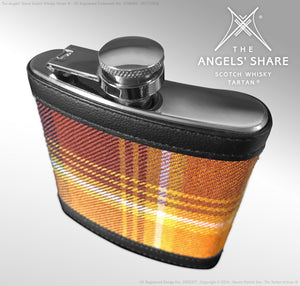 The Angels' Share - 6oz Stainless Steel Tartan Hip Flask
Sale price Price $42.00 Regular price
Tax included.
Shipping
calculated at checkout.
The Angels' Share Scotch Whisky Tartan® Stainless Steel Hip Flask ...is made with tartan woven from 100% pure new wool, created in 2016 to celebrate Scotch - Scotland's world famous national drink!
Historically known as Uisge Beatha, in Scottish Gaelic, the ancient name for the spirit was translated from the Latin Aqua Vitae meaning 'Water of Life'.
-

The tartan is designed to visibly portray 'the Angels' Share' - the 2% portion of distilled alcohol (said to be taken by the Angels) which evaporates though the oak barrel during the whisky maturation process.




Made in Scotland, from tartan woven on the Isle of Bute. This stainless steel hip flask is the perfect gift for any occasion. Also the ideal hip flask to hold your favourite Scotch! Only available by the Tartan Artisan®.

Measuring 11cm high x 9.5cm wide and holding 6oz, the hip flask is supplied in a black presentation box with funnel. 
Key Features
This hip flask is made to highlight the 2% Angels' Share... the two golden stripes in the tartan!
-
Hand Made to order in Scotland
Wrapped with the Angels' Share Scotch Whisky Tartan®
100% Pure New Wool
Finished with a black leather textured effect trim
Material - Stainless Steel
With Stainless Steel Captive Top
Dimensions Boxed 16.5cm x 12cm x 4cm
Delivery approx 2 weeks (if not in stock)
Ideal Gift Choice for the Whisky Connoisseur
A summary of the story in the tartan supplied in a small folded booklet
Dispatched from my studio, in Arbroath Scotland
-

Tartan No. 11497
UK Registered Design No. 5002317
- - - - - - -




LEAD TIME FOR DISPATCH



Being custom made to order dispatch can be approx. 2 weeks (unless stock is available).
The Angels' Share Scotch Whisky Tartan® was created in 2016, and launched on the Isle of Bute, at Bute Fabrics 24th June 2016 - during the Duke of Rothesay's official visit to the island mill.
See photos from the day - HERE
- - - - - - -
- - - - - - -
Trademarks:

THE ANGELS' SHARE SCOTCH WHISKY TARTAN®

UK Registered Design: