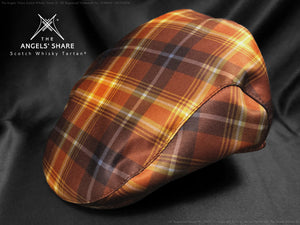 The Angels' Share - Faux Suede Flat Barnton Cap
Sale price Price $56.00 Regular price
Tax included.
Shipping
calculated at checkout.
The Angels' Share scotch whisky tartan® - suede flat Barnton cap is custom made right here in Scotland. Being made from a printed faux suede fabric allows the tartan (and the design) to be scaled and cut for the best finish in the cap, whilst still retaining the clarity in the pattern.
- - - - - - -
Created to celebrate Scotch Whisky Scotland's world-famous national drink!

Historically known as Uisge Beatha, in Scottish Gaelic, the ancient name for the spirit was translated from the Latin Aqua Vitae meaning 'Water of Life'.
-
The tartan is designed to visibly portray 'the Angels' Share' - the 2% portion of distilled alcohol (said to be taken by the Angels) which evaporates though the oak barrel during the whisky maturation process.


- - - - - - -



Hand made to order in Scotland

Exclusive design by the Tartan Artisan

®

Woven faux suede with a velvety pile
Hardwearing and fully lined
Waxed inner layer for increased water resistance 
Available in 5 cap sizes

A s

ummary of the story in the tartan supplied in a

small folded bookle

t
Dispatched from my studio, in Arbroath Scotland


Tartan No. 11497
UK Registered Design No. 5002317
 

- - - - - - -



- - - - - - -
SIZING (in inches)
Please take care to order the correct size as these caps are not adjustable:
Small = 6 7/8"
(56cm head circumference)
Medium = 7"
(57cm head circumference)
Large = 7 1/4"
(59cm head circumference)
X Large = 7 1/2"
(61cm head circumference)
XXL = 7 ¾"
(63cm head circumference)
MEASURING INSTRUCTIONS


Place a tape measure (or string) around your head about 1/8" above your ear, across the mid-forehead, completely circling your head. Hold the tape firmly, but not too tightly. Basically, you need to measure your head exactly where the hat will sit.
If your measurement falls between sizes, choose the next largest size.
- - - - - - -


LEAD TIME FOR DISPATCH

Being custom made to order dispatch can be approx. 3 weeks (unless the size ordered is in stock). Please get in touch to enquire about availability.

-

CARE INSTRUCTIONS

30°C wash, low tumble dry heat or hang to dry, do not wring.


-

Outer made from 250gsm fire resistance poly faux suede fabric

Water resistant inner layer. (If exposed to water the surface of the cap may appear wet however a reverse waxed layer will resist water seepage inside the cap).

NOTE - This product is not yet available in 100% wool
The Angels' Share Scotch Whisky Tartan® was created in 2016, and launched on the Isle of Bute, at Bute Fabrics 24th June 2016 - during the Duke of Rothesay's official visit to the island mill.
See photos from the day - HERE
- - - - - - -
- - - - - - -
Trademarks:

THE ANGELS' SHARE SCOTCH WHISKY TARTAN®

UK Registered Design: