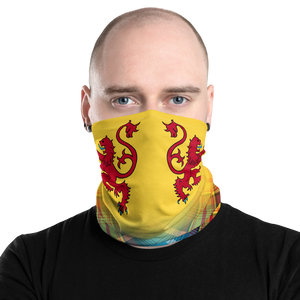 * Lion Rampant & Declaration Tartan Combo - unisex neck gaiter
Sale price Price £13.99 Regular price
Tax included.
Shipping
calculated at checkout.

A MESSAGE FOR MY LOYAL CUSTOMERS...
Click here to read that

- - -
 
This unique Neck Gaiter is designed to give you TWO looks! Wear in full for the most patriotic effect - dramatic yellow and red showing the Scottish Lion Rampant - or fold and double up to show only the Declaration tartan ...for whatever the mood takes you at the time!
The yellow panel fades gradually into the Declaration of Scottish Independence tartan. (This product is UNLABELLED ...NO UJ's!)
This is an awesome reversible neck gaiter. The perfect gift idea!
- - -
See more images of this stunning dual use neck gaiter... for both Ladies and Gents!





- - -
- - -
The neck gaiter (also known as a snood) is a fabric scarf that slips over your head and is worn around your neck. It can be pulled up to cover your mouth and nose when needed. Ideal also when a layer of extra warmth is desired around your neck and face. Neck gaiters are unisex and can have multiple uses!

Often used as an alternative face covering …rather than a standard face mask.
- - - 
Printed with both the Scottish Lion Rampant ...and the Declaration of Scottish Independence Tartan...
-
Learn the secrets in the tartan here...
Storyboard
- - -

- - -
My TARTAN NECK GAITERS come in 2 styles - SINGLE and DOUBLE layered:


1/ SINGLE LAYER - is a cooler lighter weight - and more flexible (and easier to double up for a shorter length). The single layer fabric stretches more easily. For multiple uses (including general wear and sports - fast drying).
This gaiter can also be used to cool you down in hot climates - simply wet with water, snap 3 times and wear damp to feel instantly cooler.

2/ DOUBLE LAYER - is thicker and the generous length can be doubled for extra warmth. Ideal for winter wear, outdoor sports, rallies or activities were protection from the elements is desired. May be too warm for general wear.

-

The tubular shape gives the neck gaiter a versatility that allows it to be slipped up to the face - covering the nose and the ears - then pulled down back to the neck.

-

Both styles have a filter pocket and come with one 5 layer PM2.5 Activated Carbon Filter. You can also remove the carbon filter and use it as a standard neck gaiter.
* Not meant to provide medical protection

-

Replacement packs - of 10 PM2.5 filters - are also available - HERE




FILTER LIFE SPAN

PM2.5 filters can be used continuously 16-24 hours (and changed at least 1 to 2 times a week to maintain health). The filter should be replaced whenever it becomes harder to draw a breath. Filters should not be washed.
An interesting read regarding PM2.5 filters - link goes to a third party website
HERE

-

PRODUCT DETAILS


Designed by Steven Patrick Sim, the Tartan Artisan® - Scotland
Manufactured & shipped from my UK print partner (not Scottish based for this product)
UNISEX - For ladies and Gents
Vibrant all over sublimation printed product (white on the reverse)
Wear around the neck - or cover nose, mouth and ears
Single layer is comfortable and durable. Quick drying should it become wet
Double layer is generous, for extra warmth, with a soft jersey lining. May be too warm for general wear
Outer cool silky feel Poly Lycra material (4 way stretchy fabric)
Both options are made with a slip through flexy pocket for an optional carbon filter
One replaceable PM2.5 filter (5-layer) included. Extra filters available
3 to 5 business days production time (UK), longer for rest of world

This product is UNLABELLED ...NO UJ's!






100% Satisfaction Guarantee:
Don't love it? Please get back to me if you have any issues with the product!



SIZES
To find your best size find your ideal WIDTH

MEASURE - FROM - around the back of your neck - TO - the front of your chin - using a fabric tape measure. Divide this measurement in two to find the size for your closest gaiter width.
Think about erring on the smaller size if between sizes. It needs to be a wee bit nippy (but is quite stretchy) to stay up when worn as a face covering.
NOTE - There are slight size differences between the single and double layered gaiter.

-

SINGLE LAYER Neck Gaiter Sizes:

XS / S :
8.6" W x 14.9" H
22cm x 38cm

M / L :
9.8" W x 17.3" H 
25cm x 44cm

XL / 2XL :
10.6" W x 18.1" H
27cm x 46cm

-

DOUBLE LAYER Neck Gaiter Sizes:

XS / S :
9.4" W x 16.1" H
24cm x 41cm

M / L :
10.2" W x 17.3" H
26cm x 44cm

XL / 2XL :
11" W x 18.8" H
28cm x 48cm

GARMENT LAYERS:

SINGLE LAYER NECK GAITER:

Fabric Layer 1 - 210 GSM 4 way stretch 82% Polyester 18% Lycra (printed on the front)
Pocket is stitched on the inside/front - ie made from 320 GSM Jersey fabric (73% Polyester, 22% viscose, 5% elastane)

DOUBLE LAYER NECK GAITER:

Fabric Layer 1 - 210 GSM 4 way stretch 82% Polyester 18% Lycra (printed on the front)
Fabric Layer 2 - Fully lined - 320 GSM Jersey fabric (73% Polyester, 22% viscose, 5% elastane) - with stitched filter pocket

WASHING INSTRUCTIONS:
Wash at 30c or warm water
Do not tumble dry, iron or bleach
Air drys quickly

For hygienic use:
It is recommended to wash your neck gaiter after each use.
Please refer to the Scottish Governments website for the latest information on the coronavirus pandemic
-
Get the latest NHS information and advice about coronavirus (COVID-19) HERE


* LEGAL DISCLAIMER
This face cover is not intended to act as a medical device or other medical product, and should not be used as a replacement for conventional and approved personal protective equipment, including surgical masks or respirators. No warranties, either express or implied, are hereby given that the cover will prevent infection or the transmission of viruses or diseases. The cover is not a substitute for professional medical advice, diagnosis or treatment. If you have any specific questions about any medical matter, you should always consult a doctor or other healthcare provider.
-

Note - the colours shown are for illustrative purposes only and may differ from actual product colours.
-
The Declaration of Scottish Independence tartan (Arbroath 1320) is designed and owned by Steven Patrick Sim - The Tartan Artisan ® - Copyright © 2014. All weaving, tailoring, and commercial use is managed by the designer. Contact Steve regarding use at: TartanLicense@theTartanArtisan.com with any enquiries.

UK IPO Registered Design Nos 4036938, 6104302, 6096340, 6096341, 6096342, 6096343, 6104306, 6104307, 6104308, 6104309.
The Declaration 1320 ® is UK IPO Registered Trademark No. 3138756.

Customer Reviews
12/08/2020
Begg, G.

United Kingdom
Highest quality
Certainly makes a statement, wear it around your neck, pull it up when required, ticks all the boxes! Seems to generate comment from folks with the question 'where did you get it'? Looks great, feels great, love it.