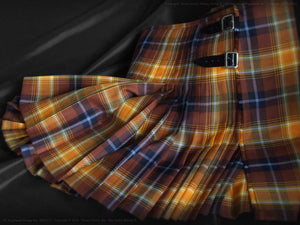 The Angels' Share ® - Medium Weight 8 Yard Kilt
Sale price Price $756.00 Regular price
Tax included.
Shipping
calculated at checkout.



Traditional 8 Yard Medium Weight Kilt
Made in Scotland, from 13oz Pure New Worsted Wool. The kilt is made from The Angels' Share® tartan, designed by Steven Patrick Sim ~ the tartan is exclusively woven and made available by The Tartan Artisan®, (Copyright © 29/7/2016).


- - -


The Angels' Share®
UK Registered Trademark - 3649035

The Angels' Share Scotch Whisky Tartan®
UK Registered Trademark - 3158692

Scotch Whisky Tartan®
UK Registered Trademark - 3158697


- - -


Dimensions - Variable
Materials - Leather Straps / Worsted Wool
Kilt Style - Traditional
Sizing - Made to Measure
Hand made in Scotland (with some machine use for a clean finish)
Pleating options available



Note - The kilt photographed was made hemmed - to stop neatly on the brown block, as the current bolt of cloth is woven with a tucked selvedge. The designer felt this finish resulted in the best looking kilt (which is actually a matter of opinion!) - Contact me to enquire further if you wish to order an Angels' Share kilt without a hemmed finish.

- - -


The Angels' Share kilts supplied by the Tartan Artisan® are a numbered edition, supplied labelled, with a signed certificate by the designer. Contact me to choose your number prior to the kilt being booked at my kilt-maker.
Edition size is 1494 numbered kilts (and you can choose your number if still available).
-
The kilt edition number represents the origin story of Scotch (the first written record of whisky production in the Exchequer Rolls of Scotland 1st June 1494).

- - -

PLEATING OPTIONS:


1/ Military Pleat one
-
2/ Military Pleat Two
-
3/ Military Pleat Three
-


4/ Pleat to Sett - as per the kilt photographed

- 

- - -


ORDERING:
At this time I am mostly fulfilling kilt orders via my website, and you can place your order on this page using the Add to Cart button. This product page takes payment in full for your kilt order.
However, if you can visit me in Arbroath I can take your measurements. Get in touch to arrange that!
-
If you wish to order via a 50% deposit, please send me a message.
-
Shipping will be calculated on completion of the order (and tailoring) and will be invoiced as a separate payment, prior to kilt dispatch.
-
Once you place your order I'll get in touch to discuss taking your measurements for your order. Please also let me know if you prefer your kilt pleat to the sett, or otherwise choose from one of the three pleat to stripe options, as indicated above.
-
Timescale - Approx 4 to 5 weeks for delivery (if the bolting cloth is in stock). A fast-tracked service also is available - contact me for details.

Or preferably include your sizes - and any other details - in the message box (Special instructions for seller) ...as you check out.

Please note: Due to high demand, and the current cloth stock reducing there are only a limited number of kilt orders available this run. However, a new bolting cloth order at the mill is in process, and folks can get involved and also order bolting cloth for your own tartan ventures!.
Visit - The Tartan Artisan Weaving Group to take part!
- - -


IF YOU ORDER A KILT TODAY ...you are placing a PRE-ORDER!

Once the current weave is booked at the mill it can take up to 16 weeks for the tartan to be made available to my kilt maker ...thereafter  5 to 6 weeks for delivery of your Angels' Share kilt.
-
Only one kilt length remains from the first run of tartan woven, and is currently under offer for a first refusal!

UPDATE! - The last kilt length has been claimed!




- - -
THREE SIZES REQUIRED (in inches):
MEASUREMENTS PROVIDED BY THE CUSTOMER - To make your kilt, 3 sizes are required.
Also please use a flexible fabric tape measure.
It's best to have someone else help you measure, and remove any bulky items from your pockets.


- - -


1/ KILT WAIST (for a traditional kilt)
Measure snugly around your waist just above the height of your belly button/navel (which should be about horizontal to the top of the hip bone). This should not be a loose measurement, but tight, as you don't want the kilt to fall down.
The larger gentleman may require a measurement much higher than the belly button, so the kilt waist is secured above the waist girth. (Please seek the assistance from an experienced tailor/kilt-maker if you are unsure).
The kilt sits a lot higher than your trousers, so this measurement will most likely be bigger than your trouser measurements.

Do not breathe in or hold your breathe.


- - -


2/ SEAT
With feet together, measure around the broadest part of your hips. Allow two fingers under the tape measure, so this is a slightly loose measurement, allowing for a swing in the kilt.


- - -


3/ LENGTH (Kilt drop)
Kneel on the floor, keeping a straight back looking forward. Measure just above the belly button (or previously measured kilt waist position) straight down to the floor, then deduct a half inch). This should result in a kilt length mid way on the knee. It is very important to have another person take this measurement for you as doing this yourself will result in leaning forward, and an incorrect measurement.
If a military style kilt length is required shorten the length by a further half inch.
-
TIPS ...and to check your length measurement
For the average build of man: When standing, imagine a straight line across your body at your waist position, about an inch above your belly button/navel (at the top of the hip bone).
-
Then drop a tape at a right angle to this line, and measure down to middle of the knee cap, this is the length of a traditional kilt. A military kilt length would be slightly shorter, and finish at the top of the knee cap.
-
Your kilt drop length will depend on how you want to wear your kilt, and how high you want it to sit on your waist. Standard kilt should always be worn to the middle of your kneecap, while military kilts are worn a little shorter, to the top of the kneecap. If you want to wear your kilt with a short jacket, such as a Prince Charlie, you may want to have your kilt sit higher on the waist, possibly by an extra inch or so. So bear that in mind when measuring your kilt waist size position.


- - -


Where you wear your kilt is personal preference, however a standard kilt is worn around the navel (or slightly above) down to midway on the kneecap, and remember your kilt waist size is likely to be larger than your trouser size.


- - -


If you are unsure, please have yourself measured by an experienced tailor or kilt-maker.
NOTE - Please ensure sizes supplied are correct and accurate - as custom made kilt orders - to supplied sizes -  cannot be returned unless there is a significant defect in the garment.

- - -


EXPECTED KILT LENGTHS

Normally, your kilt length will correspond with the following guides. If it's significantly different, try taking the measurements again. If it's slightly different, then it could be down to preference or body shape.
~

Height 5' 6" to 5' 7"
22" to 22.5" kilt length
~
Height 5' 8 to 5' 9"
23" to 23.5" kilt length
~
Height 5' 10" to 5' 11"
24" to 24.5" kilt length
~
Height 6' to 6' 2"
24.5" to 25.5" kilt length
~
Height 6' 3" to 6" 4"
26" to 26.5" kilt length
~
Height 6' 5" to 6' 7"
27" to 27.5" kilt length
 
~ ~ ~ ~ ~ ~ ~


PRICE:
8 YARD TRADITIONAL GENTS KILT / MEDIUM WEIGHT 13oz - £589.
Price includes the tartan kilt length (8 yards) - plus tailoring (CMT). Shipping costs are additional).
Timescale - Approx 4 to 5 weeks for delivery (if the bolting cloth is in stock). However a fast-tracked service is available - contact me for details.

- - -


SHIPPING:

Your kilt order will be shipped using Parcelforce, and costs to ship may vary depending on destination. Shipping for your kilt will be invoiced on completion of tailoring, prior to dispatch.

- - -


PAYMENT:

As noted above, using this page you can pay in full for your kilt order (minus Shipping). The shipping fee will be invoiced on completion of the order prior to dispatch.

If you want to add other kilt related items to your order, you can do so by adding these to your cart ...with shipping invoiced on completion of your custom tailored order). Or you can collect from me direct at my Arbroath Shop (Angus, Scotland).

- - -


Please contact me if you have any questions - Steve :)
07590 566777


- - -


Note: The fringed plaid shown in this photo gallery is not including in the kilt price, and is an additional item to be ordered - See that here
- - -
The Angels' Share Scotch Whisky Tartan® was created in 2016, and launched on the Isle of Bute, at Bute Fabrics 24th June 2016 ~ during the Duke of Rothesay's official visit to the island mill.

See photos from the day - HERE
Learn the wee story in the weave - HERE
- - -
TARTAN BOLTING CLOTH WEAVE UPDATE :


You can now pre-order The Angels' Share Scotch Whisky Tartan® as bolting cloth, by the metre! For a time limited period (until early July 2021).


LEARN MORE & ORDER THE TARTAN HERE
- - -


The Angels' Share Scotch Whisky Tartan® is exclusively woven (& printed) ...and made available by The Tartan Artisan®, (Copyright © 29/7/2016).

- - -


Trademarks:

THE ANGELS' SHARE SCOTCH WHISKY TARTAN®

UK Registered Design:
Customer Reviews
Great tartan and wonderful service!
It took a long time for me to find where to get the Angels' Share, and then what to do with it. Stevie offered to have a kilt made, promised by late fall, and it arrived at the end of August! It is one beautiful kilt, with flashes, necktie, and bow tie to go along with it. During the process, Stevie had occasion to contact me for clarifications and updates - rare in these days. My next heritage kilt will be another Steve Sims tartan - for sure! (Design to be selected at a later date.)
08/04/2022
Sean K.

United States
Excellent kilt and service
The Angels' Share Tartan is gorgeous and the fit is perfect. Great communication thoughout the entire process.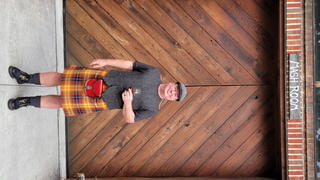 08/02/2022
Kevin W.

United States
Kiltacular
I am in love with my new kilt. It is spectacular and a gorgeous addition to my wardrobe. The customer service experience throughout the entire process from start to finish was over the top. The owner Stevie went above and beyond on my order and emailed each step of the process. I will definitely recommend The Tartan Artisan to other people.