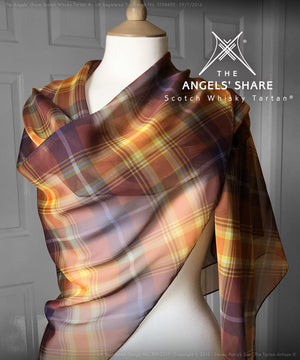 The Angels' Share - Paris Chiffon Scarf
Sale price Price £55.00 Regular price
Tax included.
Shipping
calculated at checkout.
Printed, cut and made with the utmost care and precision.
XMAS STOCK NOW AVAILABLE!
 - - -


The Angels' Share Paris Chiffon Scarf ...is printed with the Angels' Share Scotch Whisky tartan®, created in 2016 to celebrate Scotch - Scotland's world famous national drink!
Historically known as Uisge Beatha, in Scottish Gaelic, the ancient name for the spirit was translated from the Latin Aqua Vitae meaning 'Water of Life'.
-

The tartan is designed to visibly portray 'the Angels' Share' - the 2% portion of distilled alcohol (said to be taken by the Angels) which evaporates though the oak barrel during the whisky maturation process.




Made with the utmost care and precision... this fine & generously sized luxurious scarf is printed edge to edge, then cut and finished by hand with a fine and tidy baby hem to ensure it doesn't fray. Stunning when catching the sunlight, as it appears the 'Angel's themselves' are in the weave!
- - - - - - -

- - - - - - -
The Angels' Share Paris Chiffon Scarf is now available at the reduced price - of £55

Previous chiffon scarves sold where supplied in a foiled presentation box - however I'm now selling The Angels' Share scarves in a crystal clear pop-up pillow box, complete with the story behind the tartan in a wee folded booklet.
Dispatched from my Arbroath based studio (Scotland).
- - - - - - -
WAS £79

 
- - - - - - -
 
Supplied in a clear pop-up pillow box

A summary of the story in the tartan supplied in a

small folded booklet

Custom printed, hemmed and sewn
Designed in Scotland, made in the UK
Lightweight soft fabric
Semi-transparent - dry handle
Twisted filament, woven poly-chiffon
Single sided printing - with 97% image transmission
Professionally hemmed


Tartan No. 11497
UK Registered Design No. 5002317
- - - - - - -



Size – 133cm x 105cm
This scarf is rectangular allowing it to be folded into a wider triangle ...more suited for wearing as a versatile large scarf, or feather lightweight shawl.
- - - - - - -

ABOUT PARIS CHIFFON...
The perfect fabric for making pretty chiffon scarves. Soft, silky and fine, this fabric is sheer and light and will allow your custom made scarf to drape and flow in a feminine and fluid manner. The fabric is somewhat transparent, with a subtle base tone, which creates a strong contrast to the colour spectrum.
-
Some more details...

Paris poly-chiffon fabric is silky, with a weight of 40gsm, it is sheer and light. A cool fabric with a magnified netlike build, allowing air to pass through easily. Perfect for lightweight summer wear.
The custom printed chiffon fabric is a plain weave, a spun yarn filament poly-based material. The type of filament gives a certain amount of stretch and allows some give on the bias.


Care instruction
Hand-wash only at 30°c
Hang to dry
Do not wring
Do not tumble dry
Low heat steam iron
The Angels' Share Scotch Whisky Tartan® was created in 2016, and launched on the Isle of Bute, at Bute Fabrics 24th June 2016 - during the Duke of Rothesay's official visit to the island mill.
See photos from the day - HERE
- - - - - - -
- - - - - - -
Trademarks:

THE ANGELS' SHARE SCOTCH WHISKY TARTAN®

UK Registered Design: