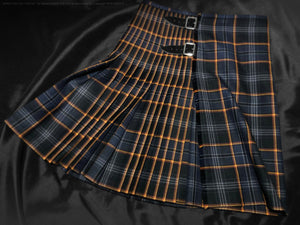 North Sea Oil - Heavyweight 16oz Kilt - 50% deposit to pre-order
Sale price Price £297.50 Regular price £595.00
Tax included.
Shipping
calculated at checkout.
100 NUMBERED & BRANDED KILTS!

Made with 16oz tartan
NOW AVAILABLE AGAIN ...TO PRE-ORDER... AFTER 7 YEARS!
The NORTH SEA OIL KILT!
However, this is a time limited opportunity for this 2023 weave!


 
- - - - - - - - -


The North Sea Oil weave has now been booked at the mill... (from 10th July 2023)

- - - - - - -


OR MESSAGE ME
...if you have any questions regarding your North Sea Oil kilt pre-order!

- - - - - - -


LOOKING FOR AN UPDATE on the Earthrise 2.0 weave & kilt run?
- - - - - - -



PLEASE USE THE MESSAGE LINK AT THE BOTTOM OF THIS PAGE - to send me your pre-order request.



- - - - - - - -





- - - - - - - -

At a Glance...




A Traditional 8 Yard Heavy Weight Kilt - Made from North Sea Oil Tartan
Pure New Wool
Heavyweight at 16oz
Pleat to the 'FLAME' - or otherwise your preferred pleat
FREE Flashes (& garters included - worth £25)
Branded by the Tartan Artisan®
Kilt hand made in Scotland (with some machine use for a crisp finish)
Supplied with a signed & embossed numbered certificate, plus the full rationale within the weave!
Pre-order with a 50% deposit, of £297.50
Balance due after approx. 4 months, after weaving/before tailoring



Choose your preferred fringe

Tucked selvedge finish - on the drop
Hidden pocket option available
Adjustable Leather Straps
Sizing - Bespoke & made to measure
Customer invoices sent out by eMail for this product


STRIPE payments accepted

P

ayment via bank transfer also accepted

Additional shipping cost applies / prior to dispatch

Customer responsible for all fees / & Import duty


- - - - - - - -
NOTE - This tartan is not available to purchase by the metre
...and is exclusive to this kilt run at this time... 100 NUMBERED KILTS
- - - - - - - -

NORTH SEA OIL
Registered at the Scottish Register of Tartans:
-
Reference:
No. #10766
-
Designer:
Sim, Steven Patrick
-
Tartan date:
16/09/2009
-
Registration date:
16 January 2013
-
Category:
Commemorative
-
Registration notes:

The tartan pays tribute to the North Sea Oil and Gas Industry. It not only recognises the economic significance of oil, Scotland's black gold, but also remembers the challenges and personal sacrifices made by oil and gas workers in the industry.
The tartan celebrates Brendan McKeown OBE (1925-2011), the petroleum engineer famously credited with bringing ashore the UK's first sample of North Sea Oil in a pickle jar on the 16th September 1969. This inaugural finding of the first commercialised North Sea oil well was recognised as a seminal moment in Scotland's industrial history.
North Sea Oil was established as a commemorative tartan 45 years after this historic discovery, on the 16th September 2014. The tartan importantly acts as a memorial in remembrance of the many lives lost in the hazardous offshore environment - the 'flame of remembrance' in the geometry respectfully remembering Piper Alpha 6th July 1988, the world's deadliest offshore oil accident.
The geometry further depicts the exploration, discovery and development of North Sea oil and gas fields. Colours: black, brown and gold together create the colour palette of raw crude oil, the gold accent alluding also to the flare boom of the North Sea oil rigs; dark blue - also when woven together with black - represents the North Sea and associated gas industry; the light and dark grey stripes depict the sedimentary nature of the sea bed, with three prominent lighter grey stripes significantly representing the three castles of Aberdeen City's coat of arms.
Due to this enterprising city's contribution to the development and commercialisation of North Sea Oil, it became known as the Oil Capital of Europe.

A TRADITIONAL HEAVYWEIGHT 16oz KILT - Bespoke & made to order
NUMBERED, CERTIFIED ...and made in Glasgow Scotland from tartan woven in 16oz pure new wool.
Note - the North Sea Oil 2023 weave is woven at Marton Mills (as per the Earthrise Tartan).
Learn more about the mill here - Marton Mills
-
CLAIM YOURS WITH ONLY A 50% DEPOSIT! - of £297.50 - Balance due after approx. 4 months [after weaving] ...and prior to booking your kilt at my kilt-maker. Total cost for this unique Kilt - £595.



LIMITED OPPORTUNITY TO PRE-ORDER!


Total estimated kilt production time: 16 weeks to weave (...from being booked at the mill) - Then approximately 5 to 6 weeks thereafter to tailor your kilt = 5.5 MONTHS FROM TARTAN WEAVE BEING BOOKED. (I will require accurate sizes from my customers just prior to booking in your kilt, and not before).
-
PLEASE NOTE - THIS IS A TIME LIMITED WINDOW to pre-book your numbered & certified North Sea Oil kilt for 2023!
-
FLASHES INCLUDED FREE ...with this kilt deal!

- - - - - - - - -
100 Numbered & Certified North Sea Oil Kilts!
...made to order ...from an ultimate run of 1,969 kilts produced by the Tartan Artisan®.
Choose your unique 4 digit number! [up to 1969] ...or otherwise you'll be allocated the lowest available number from the first 100 kilts!
- - - - - - - - -


RECOMMENDED PLEAT:
PLEAT TO THE 'FLAME OF REMEMBRANCE'
-
This is just a suggestion, and you can choose your own preferred pleating style - i.e. to SETT or otherwise. Just let me know what you prefer when sending me your request to pre-order your kilt.
-
Please also note - Images on this page were photographed from a kilt made from the original 13oz weave. These kilts were finished with a hem - on the flame pivot. This new run of kilts will be 16oz, and instead finished with the traditional non-hemmed kilt selvedge (thus the finish at the bottom of the pleat will not appear as shown).
- - - - - - - - -
THREE SIZES REQUIRED (in inches):


KILT WAIST
SEAT
LENGTH



MEASUREMENTS PROVIDED BY THE CUSTOMER (...for online orders) - To make your bespoke kilt 3 sizes are required. Please refer carefully to my measuring guide for full instructions.
I'll get back in touch to request your sizes just prior to your kilt being booked in at my kilt-maker - and not before due to possible size changes in the interim.

Local customers can book an appointment to visit me in Arbroath, Scotland for measuring. Alternatively my kilt-maker may be available [for customers in the Glasgow area - 2 customers maximum at any one time].
- - - - - - - -
IMPORTANT - Please ensure sizes supplied are correct and accurate - as custom made kilt orders - to supplied sizes - cannot be returned unless there is a defect in the garment, or an adjustment is being requested.

If unsure please seek the assistance from an experienced kilt-maker.
- - - - - - - -
PLEASE REFER TO MY FULL MEASURING GUIDE - HERE



- - - - - - - -



- - - - - - - - -
 
Some more details...
The North Sea Oil tartan was originally woven in 2016.

After remaining quiet in my portfolio ever since, and now on the prompting of a customer who wants to wear it for their wedding later in 2023 ...I've decided to run a new 16oz weave.

But importantly, regarding the rationale in the tartan, 2023 is also the 35th anniversary year for the Piper Alpha disaster ...and as such I feel it's now time, more than ever, to bring the North Sea Oil tartan back into the light!
Read the full story in the weave here

-

Therefore, I am now accepting notes of interest for customers wishing to pre-order a North Sea Oil kilt from the original run of the first 100 numbered kilts. Note - this is as exclusive time limited offer by the Tartan Artisan®.

If you're interested in committing to a pre-order (on a 50% deposit) please let me know as soon as possible. Please also get in touch if you have a special request for tartan fabric.
-
Deadline to lock down your pre-order has now passed!
However, please reach out to me as there may still be some kilt lengths available.
-
With increasing production costs in the tartan industry, taking pre-orders on a 50% deposit I hope will make acquiring the North Sea Oil kilt more accessible to my customers.
-
Once I close the pre-ordering window and book the North Sea Oil weave, it may be sometime before I weave the Oil tartan again... as other designs are on my timeline for weaving!
-
SHIPPING:
Additional shipping costs will apply before dispatch of your order - and may vary depending on destination - invoiced on completion of tailoring, prior to dispatch.
Costs unknown at this time, however I'm exploring options for the most competitive shipping rates.
- 
SEND ME A MESSAGE - with your request to pre-order your North Sea Oil kilt (and receive an invoice for your 50% deposit).
Please include your full contact details.
- - - - - - - - - -
Official North Sea Oil Tartan Registration
-
-
- - - - - - - - -
The North Sea Oil tartan is designed by Steven Patrick Sim - woven and made available by The Tartan Artisan® (© 2009 - UK Registered Design No. 6104311).
Registered at the Scottish Register of Tartans, No. #10766.