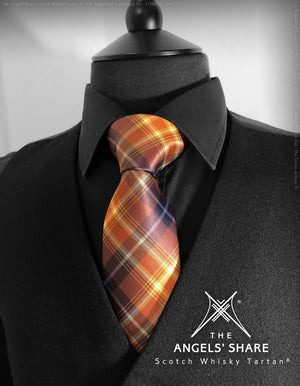 The Angels' Share - Satin Neck Tie
Sale price Price £27.00 Regular price
Tax included.
Shipping
calculated at checkout.
The Angels' Share satin neck tie is now sold out
!
-
The Angels' Share Scotch Whisky Tartan® Satin Neck Tie ...is made from woven satin fabric printed with the Angels' Share tartan, created in 2016 to celebrate Scotch - Scotland's world famous national drink!
Historically known as Uisge Beatha, in Scottish Gaelic, the ancient name for the spirit was translated from the Latin Aqua Vitae meaning 'Water of Life'.
-

The tartan is designed to visibly portray 'the Angels' Share' - the 2% portion of distilled alcohol (said to be taken by the Angels) which evaporates though the oak barrel during the whisky maturation process.




Made with the utmost care and precision... this unique neck tie is cut, sewn and labelled right here in Scotland. The tie has a smooth and luxurious semi-sheen. The tartan pattern is tight but the details remain in the printed surface... with the fine thread-count being retained.
Stunning when catching the light, as it appears the 'Angel's themselves' are in the pattern!

- - - - - - -

- - - - - - -
Comes boxed in a crystal clear pop-up pillow box, complete with the story behind the tartan in a small folded booklet.
Dispatched from my Arbroath based studio (Scotland).
- - - - - - -
Supplied in a crystal clear pop-up pillow box
A summary of the story in the tartan supplied in a 

small folded booklet

Custom printed, cut, sewn & labelled
Designed and hand made in Scotland
Soft to the touch - smooth woven poly-satin

Detailed print - showing the 2% 'Angels' Share' in the design


Tartan No. 11497
UK Registered Design No. 5002317
- - - - - - -
Size – 56.5 inches x 3.5 inches
NOTE - As each neck tie is hand made and cut randomly from the printed tartan material your tie may show the pattern differently from the one photographed on this product page.
- - - - - - -
Care instruction
Wash at 30°C

Low tumble dry heat

Hang to dry

Do not wring

The Angels' Share Scotch Whisky Tartan® was created in 2016, and launched on the Isle of Bute, at Bute Fabrics 24th June 2016 - during the Duke of Rothesay's official visit to the island mill.
See photos from the day - HERE
- - - - - - -
- - - - - - -
Trademarks:

THE ANGELS' SHARE SCOTCH WHISKY TARTAN®

UK Registered Design:
Customer Reviews
Angels share tie
The tie i recieved is better in the flesh as they say stunning product delivered in the best packaging i have had for a tie great experience highly recommend the tartan artisan!!!!
03/22/2022
Stephan M.

Germany
Brilliant colours! Nice necktie
Fast delivery, beautiful tartan coloured tie. Perfect match for my weathered kilt, which has orange stripes as well. Cheers!
03/11/2022
Kristopher H.

United States
Wonderful
Haven't worn it yet, as I'm waiting for the kilt. But it's a great looking tie!