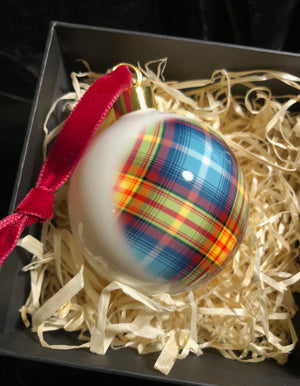 The Declaration of Scottish Independence Tartan ~ Bone China Christmas Bauble
Sale price Price £36.00 Regular price
Tax included.
Shipping
calculated at checkout.

A MESSAGE FOR MY LOYAL CUSTOMERS...
Click here to read that

- - -
 
Decorate your tree with a little piece of Scottish Patriotism!
...with this custom-made ~ Declaration Tartan ~ bone china Christmas bauble.
- - -
GIFT BOXED!
- - - 
This is a unique product by the Tartan Artisan... featuring the iconic Declaration tartan on this premium quality ~ printed & hand-made bone china Christmas Bauble.
The front features the iconic Declaration tartan (with a soft fade into the white bone china) ...with the reverse written with the leading part of the famous excerpt from the Declaration of Arbroath manuscript:
"for, as long as but a hundred of us remain alive..."
- - -
The Declaration Christmas Bauble comes in a Black straw lined Gift Box, and would make an ideal gift... or it can simply be a very special feature to finish off your personal Christmas Tree.
- - -
A Stunning bone china Christmas bauble
Custom made to order
65mm diameter
Velvety red hanging ribbon supplied - 300 mm (straight) 120 mm (looped)
Gift packaged in a black presentation box made from sturdy card, lined with straw
Box is 4.5"W x 4.5" x 3.5"
Outstanding print detailing - printed directly onto the bone china
Printed using deep infusion technology to provide a rub-proof, fade-resistant image
The reverse features the famous excerpt from the Declaration of Arbroath
Unique to the Tartan Artisan


Clean with a damp cloth and some mild soapy water
- - -


Note this isn't a large decoration, but very meaningful.
Made by my UK supplier.
Customer Reviews
12/17/2020
Phil C.

United Kingdom