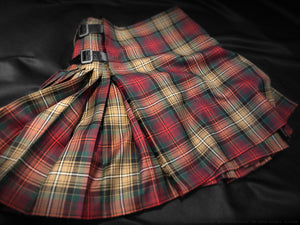 The Declaration of Arbroath 7th Centennial Kilt - Made in Scotland
Sale price Price £589.00 Regular price
Tax included.
Shipping
calculated at checkout.

UPDATE - 0 KILTS LEFT THIS RUN!
NOW SOLD OUT! Please see note below... TAKING NOTES OF INTEREST FOR THE NEXT TARTAN RUN!

- - - - - - -

A Traditional 8 Yard Medium Weight Kilt

Woven and tailored in Scotland, from 13oz Pure New Worsted Wool. This very special kilt is made from the Declaration of Arbroath 7th Centennial Commemorative tartan - designed by Steven Patrick Sim - the tartan is exclusively woven and made available by The Tartan Artisan®
- 
Hiding in storage for over two years, since the postponement of the 700th Anniversary celebrations in 2020 due to the COVID-19 pandemic. A rare tartan indeed! ...now at last, time to see its day!


- - - - - - -



Dimensions - Variable
Materials - Leather Straps / 100% Pure New Worsted Wool
Kilt Style - Traditional
Sizing - Made to Measure
Hand made in Scotland (with some machine use for a precise finish)
Three pleating options available

Free pair of matching flashes & garters included! - Worth £25


Note - The kilt photographed (my own personal kilt - #1) was made hemmed - to finish neatly on the bright scarlet stripe, as the current bolt of cloth is woven with a tucked selvedge. I felt this resulted in the best looking kilt, as the finish on the scarlet is stunning! (...also a matter of opinion!) - Contact me to enquire further if you wish to order a 7th Centennial kilt with a traditional finish.


Inspired and designed in Arbroath


Made from premium tartan, woven in Scotland - on the Isle of Bute


Tailored in Glasgow


Supplied with a signed and embossed numbered certificate


First come first served!


After these are gone, availability will be extended into 2023!




- - - - - - -



UPDATE - THIS RUN OF KILTS HAS NOW SOLD OUT!
...from the original first bolts woven for the 700th Anniversary of the Declaration of Arbroath - 6th April 2020. Sold on a FIRST COME FIRST SERVED BASIS!
-
If you want to be added as an interested customer for the next run, please send me a message. To make that viable I am looking for approx 15 kilt pre-orders. I will only take payment once I have the numbers. But please let me know if you are keen. Kind regards, Stevie. 07590 566777

-
NUMBERS 1, 2, 3, 4, 5, 6, 7, 8, 9, 13, 14, 15, 22 & 25 - from the first 100 - ARE NOW CLAIMED! - Plus more numbers to be determined.
APPROX. 2 KILTS ARE NOW LEFT TO BE CLAIMED ...from the next kilt run!


- - - - - - -




The 7th Centennial kilts supplied by the Tartan Artisan® are initially being launched as the first 100 kilts. A numbered edition, tailored in Glasgow with a numbered kilt label - showing the Scottish Saltire, and the Lion Rampant ...completed with a signed certificate by the designer. Sold on a sequential basis - lowest number first.

- - - - - - -
 
- - - - - - -

AN ANCIENT CRY FOR FREEDOM! Woven into the yarns of time. A kilt for a generation …after generations.
-
Inspirited by the very script, and penmanship …of that ancient letter. Memorialising the Scots of old who died fighting for Freedom, remembering their spilled blood. The seals of Barons and Nobels, who pledged allegiance to a rebel King. Scotland's most treasured and ancient artefact - THE DECLARATION OF ARBROATH.

-
"for, as long as but a hundred of us remain alive, never will we on any conditions be brought under English rule. It is in truth not for glory, nor riches, nor honours, that we are fighting, but for freedom - for that alone, which no honest man gives up but with life itself".
-
The Declaration is a letter written in 1320 by the barons and whole community of the kingdom of Scotland to the pope, asking him to recognise Scotland's independence and acknowledge Robert the Bruce as the country's lawful king.
-
The Declaration of Arbroath is - Crown Copyright, National Records of Scotland.
- - - - - - -


Read the rationale in the 7th Centennial tartan HERE!


- - - - - - -
Note - If there is high demand for the Centennial kilts (after the first 100 kilts are sold) ...I may open up the numbered edition further ...to a maximum of 1,320 (allowing customers to choose their own meaningful number thereafter, on into the future).


- - - - - - -


PLEAT OPTIONS:
1/ Military pleat option one - The Blood of the Scots
-
2/ Military pleat option two - The Letter
-
3/ Pleat option three - Pleat to Sett
-



- - - - - - -
Two different cuts of Flashes (with garters) are available - "The Blood of the Scots" - and "The Letter" - One pair comes free with your kilt order!
ORDER THE SECOND VARIANT HERE
...for a change of theme! 
- - - - - - -
ORDERING :
At this time I am fulfilling kilt orders via my website, and you can place your order on this page using the Add to Cart button. This product page takes payment in full for your kilt order (...minus shipping). 
-
Shipping will be calculated on completion of tailoring, and will be invoiced as an additional payment, prior to kilt dispatch - which will also provide a conclusion date for your order. If you are local to me in Arbroath you can arrange a collection.
-
Once you place your order I'll get in touch to confirm your supplied measurements. Please also let me know if you prefer your kilt pleat to sett, or otherwise choose from one of the two pleat to stripe options, as indicated above.
-
Timescale - Approx. 5 to 6 weeks for delivery (if the bolting cloth is in stock), once the order is booked at my kilt-maker.

You can also include your sizes - and any other details - in the message box (Special instructions for seller) ...as you check out. If you are local and can visit me in Arbroath I can take your measurements. Get in touch to arrange that!


- - - - - - -


If you find the 7th Centennial Kilt has sold out, you can message me with your interest to be included in the next kilt run, and I will keep you in mind. If I receive enough interest to validate a second weave, I will email you to confirm your pre-booking and commitment to order.
- - - - - - -


THREE SIZES REQUIRED (in inches) :
-
MEASUREMENTS PROVIDED BY THE CUSTOMER - To make your kilt, 3 sizes are required.
Use a flexible fabric tape measure.
Please have someone else help you measure, and remove any bulky items from your pockets.



- - - - - - -


 
1/ KILT WAIST (for a traditional kilt)
Measure around your waist just above the height of your belly button/navel (which should be about horizontal to the top of the hip bone). This should not be a loose measurement, but snug as you don't want the kilt to fall down.
The larger gentleman may require a measurement much higher than the belly button, so the kilt waist is secured above the waist girth. (Please seek the assistance from an experienced tailor/kilt-maker if you are unsure).
The kilt sits a lot higher than your trousers, so this measurement will most likely be bigger than your trouser measurements.

Do not breathe in or hold your breathe.



- - - - - - -


 
2/ SEAT
With feet together, measure around the broadest part of your hips. Allow two fingers under the tape measure, so this is a slightly loose measurement, allowing for a swing in the kilt.



- - - - - - -


 
3/ LENGTH (Kilt drop)
Kneel on the floor, keeping a straight back looking forward. Have your assistant measure your waist just above the belly button (or previously measured kilt waist position) straight down to the floor, then deduct a half inch). This should result in a kilt length mid way on the knee. It is very important to have another person take this measurement for you as doing this yourself will result in leaning forward, and an incorrect measurement.
If a military style kilt length is required you can shorten the length by a further half inch ...a matter of personal preference.
-
TIPS ...and to check your length measurement
For the average build of man: When standing, imagine a straight line across your body at your waist position, about an inch above your belly button/navel (at the top of the hip bone).
-
Then drop a tape at a right angle to this line, and measure down to middle of the knee cap, this is the length of a traditional kilt. A military kilt length could be slightly shorter, and finish at the top of the knee cap.
-
Your kilt drop length will depend on how you want to wear your kilt, and how high you want it to sit on your waist. Standard kilt should always be worn to the middle of your kneecap, while military kilts can be worn a little shorter, to the top of the kneecap. If you want to wear your kilt with a short jacket, such as a Prince Charlie, you may want to have your kilt sit higher on the waist, possibly by an extra inch or so. So bear that in mind when measuring your kilt waist size position.


- - -


Where you wear your kilt is personal preference, however a standard kilt is worn around the navel (or slightly above) down to midway on the kneecap, and remember your kilt waist size is likely to be larger than your trouser size.


- - -


If you are unsure, please have yourself measured by an experienced tailor or kilt-maker.
NOTE - Please ensure sizes supplied are correct and accurate - as custom made kilt orders - to supplied sizes -  cannot be returned unless there is a significant defect in the garment.

- - -


EXPECTED KILT LENGTHS

Normally, your kilt length will correspond with the following guides. If it's significantly different, try taking the measurements again. If it's slightly different, then it could be down to preference or body shape.
-

Height 5' 6" to 5' 7"
22" to 22.5" kilt length
-
Height 5' 8 to 5' 9"
23" to 23.5" kilt length
-
Height 5' 10" to 5' 11"
24" to 24.5" kilt length
-
Height 6' to 6' 2"
24.5" to 25.5" kilt length
-
Height 6' 3" to 6" 4"
26" to 26.5" kilt length
-
Height 6' 5" to 6' 7"
27" to 27.5" kilt length

- - - - - - -


- - - - - - -
PRICE :
8 YARD MEDIUM WEIGHT CENTENNIAL KILT - £589.
Price includes the tartan kilt length (8 yards) - plus tailoring. Shipping costs are additional).
Free pair of matching flashes & garters included!
Timescale - Approx. 4 to 6 weeks for delivery (if the bolting cloth is in stock), once the order is booked at my kilt-maker.

- - -


SHIPPING :

Your kilt order will be shipped using Parcelforce, and costs to ship may vary depending on destination. Shipping for your kilt will be invoiced on completion of tailoring, prior to dispatch.

- - -


PAYMENT :

As noted above, using this page you can pay in full for your kilt order (minus shipping). The shipping fee will be invoiced on completion of the order prior to dispatch. Or you can collect from me direct at my Arbroath Shop (Angus, Scotland).
Please contact me if you have any questions - Stevie :)
07590 566777
- - -
The 7th Centennial Tartan is woven & printed ...and made available by The Tartan Artisan ® - Copyright © 2020
- - -


UK Registered Trademark / #UK00003138756 :

UK Registered Design / #6085120 :
THE DECLARATION OF ARBROATH 7th CENTENNIAL COMMEMORATIVE TARTAN