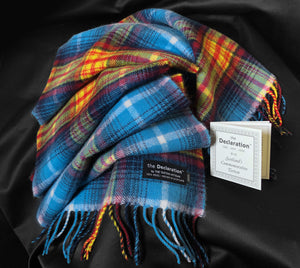 The Declaration of Scottish Independence Tartan - Lambswool Scarf
Sale price Price £49.00 Regular price £54.00
Tax included.
Shipping
calculated at checkout.
The Declaration Of Scottish Independence, Arbroath 1320 - SCOTLAND'S COMMEMORATIVE TARTAN! Exclusive to the Tartan Artisan.

The MOST RECENT batch from an edition of 1,320 certificated & numbered Commemorative Scarves - UPDATED 23rd January 2023!
 - - -
STOCK

STILL

AVAILABLE - But order yours soon to avoid disappointment! - Last count only 19 scarves left this run! - UPDATE! NOW 14! - Sorry, now all sold!
...the perfect gift for VALENTINES DAY 2023! Or for a wee something for yourself. We're getting closer to the end of this edition!!!
 - - -
I'm running promotions now to clear this stock - price held at the reduced cost of £49! After these are gone, it will be well into 2023 before next availability.
Please note these scarfs are certified with the date 23rd November 2022! The date Nicola Sturgeon gave her speech at the pro-independence rally - Edinburgh!
- - -
- - -
The popularity of the Declaration Tartan Lambswool Scarf exploded after it was worn by Nicola Sturgeon First Minister! - And worn again by her on telly on 29th Dec 2020! ...what seems like an age ago!
-
The current stock is numbered in the 900's from an edition size of 1,320 numbered scarves!
Once they're gone, they're awa!
- - - - - - -


The Declaration lambswool scarves are made from the first tartan created to visibly represent the proportions of two flags of Scotland ...the Ancient Saltire & the Lion Rampant (the Royal Standard of Scotland).
Packaged in a crystal clear cylinder box ...the scarves are made in Scotland from Declaration tartan woven from 100% Pure New Lambswool. Supplied with the full rationale behind the tartan on an A5 printed card, with certificate and the famous 'freedom' quote ...taken from the Declaration of Arbroath, 6th April 1320.
Unisex …for ladies and gents


- - - - - - -

Learn more about the story in the weave HERE

- - - - - - -


Each scarf is individually numbered and labeled ...'the Declaration®'
• 180cm x 30cm
• The complete rationale behind the Declaration Tartan included
• The famous quote (printed on both an A5 card & small wallet or purse sized card):
"for, as long as but a hundred of us remain alive, never will we on any conditions be brought under English rule. It is in truth not for glory, nor riches, nor honours that we are fighting, but for freedom – for that alone, which no honest man gives up but with life itself."
• An embossed and numbered certificate of authenticity
...signed by the designer, and enclosed in a wee gold envelope
• Tartan No. 11,182 - UK Registered Design No. 4036938


- - - - - - -


SCARVES ARE SOLD IN NON-SEQUENTIAL ORDER (ie from the current stock in hand)

This current batch of scarves mostly number in the 900's. At this time due to high demand I am unable to offer specific numbers for customer orders.


- - - - - - -


Please Note - Due to production issues the wee bookie (with rationale) as shown in the product photos has been superseded with the rationale now included on an A5 soft velvet touch heavy-weight printed card. Also, this batch of scarves are packaged in a new cylinder shaped crystal clear box.


- - - - - - -


DECLARATION TARTAN NECK TIES ...are still in stock, but limited availability