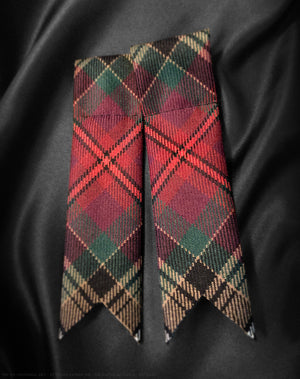 Matching Flashes - "The Blood of the Scots" - for the 7th Centennial Kilt
Sale price Price £25.00 Regular price
Tax included.
Shipping
calculated at checkout.

100% Pure Wool Flashes - Made to match the 8 Yard Medium Weight Kilt
-
Hand cut and custom made to order
Made from .3m of double width tartan cloth
-
The corresponding kilt is woven and tailored in Scotland, from 13oz Pure New Worsted Wool. This very special kilt is made from the Declaration of Arbroath 7th Centennial Commemorative tartan - designed by Steven Patrick Sim - the tartan is exclusively woven and made available by The Tartan Artisan®
- 
Hiding in storage for over two years, since the postponement of the 700th Anniversary celebrations in 2020 due to the COVID-19 pandemic. A rare tartan indeed! ...now at last, time to see its day!


- - - - - - -

UPDATE - THIS RUN OF KILTS HAS NOW SOLD OUT!
...from the original first bolts woven for the 700th Anniversary of the Declaration of Arbroath - 6th April 2020. Sold on a FIRST COME FIRST SERVED BASIS!
-
If you want to be added as an interested customer for the next run, please send me a message. To make that viable I am looking for approx 15 kilt pre-orders. I will only take payment once I have the numbers. But please let me know if you are keen. Kind regards, Stevie. 07590 566777

-
NUMBERS 1, 2, 3, 4, 5, 6, 7, 8, & 9 - from the first 100 - ARE NOW CLAIMED! - Plus more numbers to be determined.
- - - - - - -
Materials - 100% Pure New Worsted Wool
Hand made in Scotland
Made to match the 7th Centennial Kilt
Inspired and designed in Arbroath
Tailored in Glasgow
LEARN MORE ABOUT THE KILT HERE!
- - - - - - -
AN ANCIENT CRY FOR FREEDOM! Woven into the yarns of time. A kilt for a generation …after generations.
-
Inspirited by the very script, and penmanship …of that ancient letter. Memorialising the Scots of old who died fighting for Freedom, remembering their spilled blood. The seals of Barons and Nobels, who pledged allegiance to a rebel King. Scotland's most treasured and ancient artefact - THE DECLARATION OF ARBROATH.

-
"for, as long as but a hundred of us remain alive, never will we on any conditions be brought under English rule. It is in truth not for glory, nor riches, nor honours, that we are fighting, but for freedom - for that alone, which no honest man gives up but with life itself".
-
The Declaration is a letter written in 1320 by the barons and whole community of the kingdom of Scotland to the pope, asking him to recognise Scotland's independence and acknowledge Robert the Bruce as the country's lawful king.
-
The Declaration of Arbroath is - Crown Copyright, National Records of Scotland.
- - - - - - -


Read the rationale in the 7th Centennial tartan HERE!