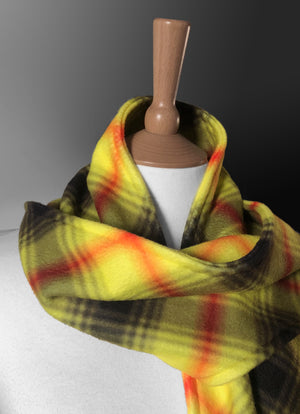 VIROHAZARD - Polar Fleece Scarf - Medium
Sale price Price $45.00 Regular price
Tax included.
Shipping
calculated at checkout.
144cm x 22cm
-
HELP ME MAKE A DIFFERENCE!
60% of proceeds from each scarf sale will be donated to NHS Scotland *
-
The tartan was created to be a wearable public health warning… which will also help raise funds to support NHS Scotland during the Coronavirus pandemic.


Created by Steven Patrick Sim, the tartan was inspired by his increasing anxieties over the unfolding health crisis.

-
PLEASE UNDERSTAND why I created the Virohazard tartan!
...you can read about that here
-
Click here for the larger size (ie a longer scarf)

-
Influenced by the universal warning colours of yellow and black, with red representing the virus, the tartan was created to act as a vivid reminder to be aware of the dangers of the coronavirus, and in doing so instil - in both wearer and observer - a high state of mindfulness, not only for each others own health, but also for the most vulnerable and at risk in our neighbourhood and communities.
The tartan was created to strongly encourage vigilance as the disease spreads, and it also aims to promote the importance of health hygiene and precautions provided by the Scottish Government and health professionals.
-
Most significantly, the black in the tartan is a mark of respect to remember those sadly lost to the virus.


* The designer hopes the tartan will be received positively, with 60% of proceeds from each scarf sale being donated to NHS Scotland during the pandemic to help them as they provide health care and life saving support to the Scottish public.

See a gallery of detailed images here!
- - - - - - - - - - - - - - - - - -

HOW TO HELP AVOID CATCHING CORONAVIRUS:
-
WASH YOUR HANDS

One of the most important things you can do to reduce the risk of infection for yourself and the people around you is to wash your hands, frequently and thoroughly, with soap and hot water. You should wash your hands more often than you would normally.

You should wash your hands for at least 20 seconds or for two rounds of the song 'Happy Birthday', especially when you get home after going out, before eating or handling food, and after sneezing or blowing your nose.
-
CATCH IT - KILL IT - BIN IT
You should also make sure you catch coughs or sneezes with a tissue or your sleeve – not your hands – and put used tissues in the bin. Then wash your hands.
-
AVOID TOUCHING YOUR EYES, NOSE OR MOUTH.
-

Stay at home, to reduce risks of spreading coronavirus, and when out in public practice social distancing.
-
Be aware of those who are vulnerable in your local neighbourhood, and communities... provide support wherever possible.
- - - - - - - - - - - - - - - - - -

Polar Fleece Scarf
Available for dispatch in 3 - 5 days.

Custom printed and handmade to order in a clean environment from my self contained online supplier.

MEDIUM - 144cm x 22cm
570gsm double-layer scarf
Unisex design
Ultra warm and soft

100% poly, fire rated fabric
Double sided vibrant print
-
Click here for the larger size (ie a longer scarf)

-
This is a very warm and comfy scarf, and is highly recommended by Steven as he owns one himself. If you are looking for a reliable scarf to keep you warm on cold days this is the ideal scarf. The print is vibrant and will weather well. The scarf does not crush easily.
More importantly Steven is donating 60% of proceeds from the sale of each scarf to NHS Scotland, and he hopes the tartan will help raise awareness, and vigilance at this critical time.
-
Care instruction
Wash at 30°c, low tumble dry heat, hang to dry, do not wring, low heat iron.
Customer Reviews
04/21/2020
Susan M.

United Kingdom
Fantastic Scarf
I bought 2, one for my mum and one for my sister as they were both High risk during the COVID outbreak. They love them easily wrapped around, don't crush, very cosy and very visible. Thanks Stevie.