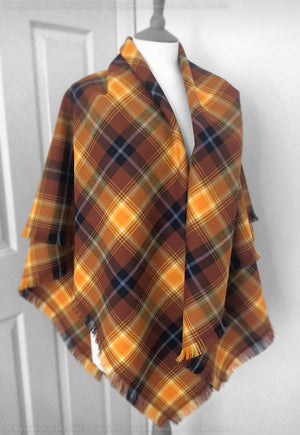 The Angels' Share Scotch Whisky Tartan® ~ Ladies Fringed Shawl
Sale price Price £126.00 Regular price
Tax included.
Shipping
calculated at checkout.

Ladies Fringed Tartan Shawl

The shawl is made from The Angels' Share Scotch Whisky Tartan®, hand fringed, and made rectangular and more generous to perform better as a garment to wrap around the shoulders. The fringing takes into consideration (and carefully finishes the corners on) the two golden stripes, representing the 2% 'Angels' Share' in the weave. :)
~ ~ ~


NOW TAKING PRE-ORDERS FOR LADIES SHAWLS
Please note - YOU ARE PRE-ORDERING YOUR SHAWL, prior to the weave being booked at the mill. (The tartan is not available to be made into shawls at this time).
-
Soon sometime into the first week of July - I will no longer be taking Shawl pre-orders for this weave, and I'll close this ordering page. I'll then book the weave at the mill.
-
Thereafter, there will be a wait of approx 12/14 weeks before your shawl is made &  dispatched. You can enquire at any time about the progress of your order.
SIZE - 1,570mm L  x  1,410mm W
100% Pure New Wool
Hand fringed ...& made personally by the Tartan Artisan
Generous size - 1.57m x 1.41m

Made in Scotland, from 13oz Pure New Worsted Wool




Limited availability this current run of cloth!


~ ~ ~
Angels' Share Tartan Shawls - custom made to order

~ ~ ~
The Angels' Share Scotch Whisky Tartan® was created in 2016, and launched on the Isle of Bute, at Bute Fabrics 24th June 2016 ~ during the Duke of Rothesay's official visit to the island mill.

See photos from the day - HERE
Learn the wee story in the weave - HERE
~ ~ ~ ~ ~ ~ ~ 
TARTAN BOLTING CLOTH WEAVE UPDATE :


You can now pre-order The Angels' Share Scotch Whisky Tartan® as bolting cloth, by the metre! For a time limited period.


LEARN MORE & ORDER THE TARTAN HERE
~ ~ ~ ~ ~ ~ ~

The Angels' Share Scotch Whisky Tartan® is exclusively woven (& printed) ...and made available by The Tartan Artisan®, (Copyright © 29/7/2016).

~ ~ ~


Trademarks:
THE ANGELS' SHARE SCOTCH WHISKY TARTAN®

UK Registered Design: