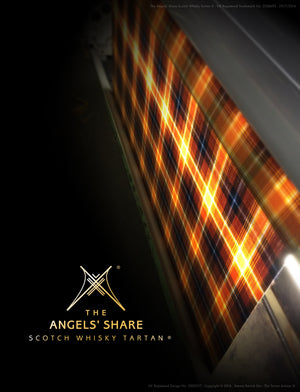 The Angels' Share Tartan ~ 13oz DW bolting cloth by the metre (Zero UK VAT)
Sale price Price $63.00 Regular price $76.00
Tax included.
Shipping
calculated at checkout.
THIS PAGE IS FOR NON UK - TRADE & RETAIL CUSTOMERS - (Zero VAT Rated)

~ ~ ~ ~ ~ ~ ~

N
OW TAKING PRE-ORDERS FOR BOLTING CLOTH ...by the metre


~ ~ ~ ~ ~ ~ ~


Please note - YOU ARE PRE-ORDERING YOUR FABRIC, prior to the weave being booked at the mill. (The tartan is not available for dispatch at this time).
-
Soon sometime into the first week of July - I will no longer be taking pre-orders for this weave, and I'll close this ordering page. I'll then book the weave at the mill.
-
Thereafter, there will be a wait of approx 12/14 weeks before your fabric is dispatched. * Please see note below.
-
Payment for shipping is not taken at this time - and will be invoiced in a separate payment prior to dispatch.
-
Shipping costs are unknown at this time, as each order will be calculated on its own merit (size, weight, destination) - Using Royal Mail, Parcelforce OR DHL. I'll get in touch to double-check your shipping address, and update you with your estimated delivery date.
-
This product page is for Non-UK Trade Customers - i.e. NO UK VAT is charged (deducting 20% from the retail price). Payment will be taken in full (minus shipping).
-
Pre-orders are in one metre minimum lengths.
~ ~ ~ ~ ~ ~ ~ ~ ~ ~ ~ ~ ~ ~ ~ ~ ~ ~ ~ ~ ~

For a limited period I'm now making available for general sale The Angels' Share Scotch Whisky Tartan®  (for this second bolt run, woven on the Isle of Bute, Scotland).
The tartan is double width (D/W), at 1440mm wide. Worsted wool, the tartan is woven with a tucked selvedge.
The tartan is exclusively supplied by the Tartan Artisan®, Scotland, with this current run of cloth being offered and sold under an INTRODUCTORY ROYALTY FREE OFFER.
There will be no additional cost to use the registered trademark in connection with the The Angels' Share Scotch Whisky Tartan® for this first run of tartan cloth sold to retail and commercial customers (...and the sale of goods - kilts, garments & products made from this cloth run).

Future weaves may be sold - by the metre - with commercial use being under a modest and fair license agreement.

I may also decide to stop selling the cloth in the future... but for now, I think it's time to set at least one of my tartans free! Others may follow, but first I'm keen to get feedback on the interest for this design!



~ ~ ~ ~ ~ ~ ~



The Angels' Share Scotch Whisky Tartan® was created in 2016, and launched on the Isle of Bute, at Bute Fabrics 24th June 2016 ~ during the Duke of Rothesay's official visit to the island mill.
See photos from the day - HERE
Learn the wee story in the weave - HERE


~ ~ ~ ~ ~ ~ ~



The Angels' Share

 

Scotch Whisky Tartan® ~ Available exclusively from the Tartan Artisan®

Woven in Scotland - on the Isle of Bute

Royalty Free Introductory Offer - for tartan sold this weave (& commercial use of this cloth run)

100m min weave order at the mill

Future sales of this cloth may see a price increase


*Note - Timescales for dispatch are quoted by the mill at approx 12/14 weeks (FROM TIME OF BOOKING *AT THE MILL* early July 2021), however due to potential pandemic related disruptions timescales cannot be guaranteed.


~ ~ ~ ~ ~ ~ ~
 
PRICE PER METRE :
Double Width (at 1440mm) - Medium Weight - 13oz
£49.00
Discounted from £58.80 (due to non UK VAT rating) ...making a kilt length (3.7m) in GBP - £181.30
~ ~ ~ ~ ~ ~ ~

Join my facebook group to keep updated and get more involved...

Tartan Artisan Weaving Guild - NOW LIVE!
~ ~ ~ ~ ~ ~ ~
Thanks you for your interest! ...and get in touch if you have any questions!
This is a new venture for me, and if it runs smoothly I may decide to start releasing other tartan designs as cloth sales!
CHEERS!!
Slàinte Mhath!
...time to let the Angels fly free!
Stevie
Tartan Guy :)
~ ~ ~ ~ ~ ~ ~


Trademarks:
THE ANGELS' SHARE SCOTCH WHISKY TARTAN®

UK Registered Design: